Dean Braun's Reappointment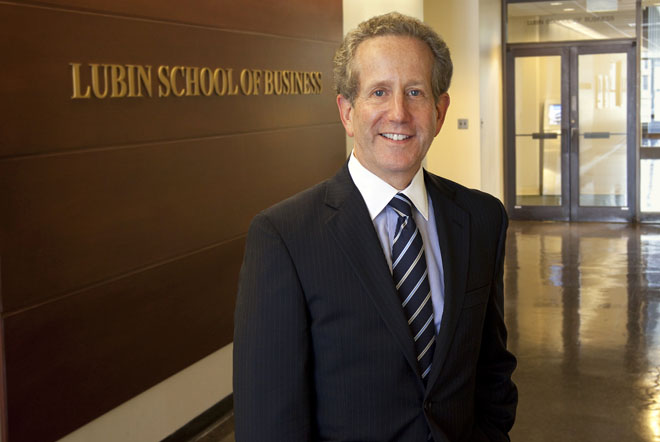 Neil Braun has been reappointed Dean of the Lubin School of Business. For the past eight years, Dean Braun has led the school to achievements that have enhanced Lubin's standing in the academic and business worlds. His dynamic leadership style and vast experience have brought vitality and relevance to Lubin. Since he became dean in 2010, the Lubin School has introduced progressive new programs and concentrations that reflect the demands of the marketplace.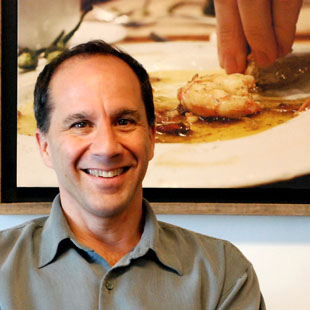 Restaurateur Andy Pforzheimer to Visit Lubin
Andy Pforzheimer will be the Executive in Residence on the New York City campus on November 5. He is the co-founder and former CEO of Barteca Restaurant Group. If his name sounds familiar, it should. He is a member of the Pforzheimer family, after which Pace's Pforzheimer Honors College is named. Mr. Pforzheimer is a restaurateur with 38 years of experience. Dean Braun will interview him during his visit. RSVP is requested.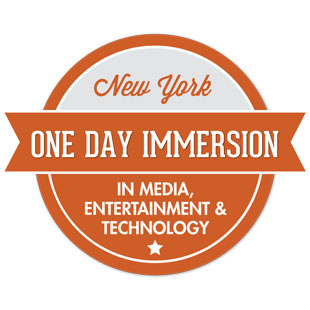 Learn to Navigate a Career Path that Keeps you Relevant
The One Day Immersion (ODI) conference in Media, Entertainment, and Technology returns to Pace's Schimmel Center on November 2, 2018. The conference theme is Navigating Disruption and the keynote speaker is Judy McGrath, former chair and CEO of MTV Networks, who now serves as a director at Amazon.com Inc., and as a senior advisor to Astronauts Wanted, a multimedia joint venture she formed with Sony Music Entertainment. College students and recent graduates will have the opportunity to network with executives as well as participate in the Pitch Perfect: ODI Edition team competition for cash prizes. Register for the conference.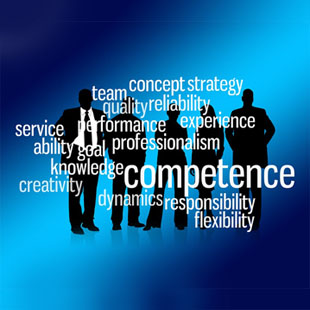 New Staff Appointments
Congratulations to Randi Priluck, PhD, and John Byrne, PhD, on their appointments to new roles. Dr. Priluck is now the Associate Dean of Undergraduate Programs, focusing on program mix, curriculum, and pedagogical deliveries. Dr. Byrne will address operational issues as the new Associate Dean of Academic Operations. We look forward to working with them in their new positions.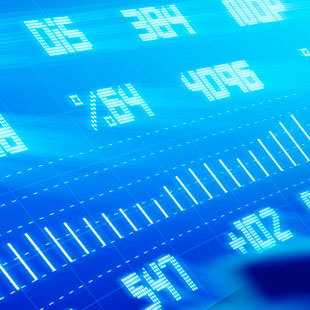 Student Managed Investment Portfolio (SMIP) Outperforms Again!
The Student Managed Investment Portfolio (SMIP) fund announced its end-of-fiscal-year (8/31/17 - 8/31/18) results. The fund outperformed the S&P 500 (22% compared to 14%). To date, the fund has returned half of its profits to the school in the amount of $160,000 (aggregate total). Students who manage the SMIP engage in direct contact with leading financial analysts and hedge fund managers. Here is a video showcasing the students in action.
EY Scholarship Recipients
The Ernst & Young Fund for Excellence in Accounting Education provides scholarship awards of $5,000 each to outstanding Lubin students in a qualified undergraduate or graduate accounting program. This year, a total of three scholarships were awarded. Congratulations to our scholarship winners!
Sports Marketing Conference
Lubin partnered with Steinberg Sports and Entertainment to host the Sports Career Conference for the northeastern region in September. Representatives from the industry talked with students and professionals about careers in sports media, management, marketing, entrepreneurship, and philanthropy. Panel discussions were moderated by Steinberg's COO, Chris Cabott, and featured officials/participants from the NFL, NYCFC, the NY Jets, the NY Giants, MLS, Pace Athletics, and more. Students had the opportunity to speak with the panelists one-on-one during mentoring hour. Lubin offers a sports marketing major. Learn more about it.
Field Study Trips and Figueroa Scholarships
Through faculty-led international field study trips, Lubin students have the opportunity to learn more about global economies. Fall 2018 field studies travelling in January 2019 will provide students with the opportunity to visit Belgium and England (Marketing), and Argentina and Chile (Finance). Spring 2019 destinations will include Brazil, China, Denmark, and Sweden. Applications for Spring 2019 Figueroa Family Fund field study scholarships ($2,000) will open on October 15 and close on November 30, 2018.
Pace University Small Business Development Center
The Pace University Small Business Development Center (SBDC) provides in-depth and confidential one-on-one business advisement, training, and research to help small business owners and aspiring entrepreneurs launch or grow their business. Housed within the Lubin School of Business, the Pace SBDC is part of a statewide network of centers and combines the resources of Pace University, the private sector, and government to enable small businesses to reach their full potential. Their various clients have launched ventures such as Smooth Pops, offering all-natural and vegan fruit smoothie ice pops, and Earth Angel, a sustainability consulting business.
Student Success
Lubin is all about experiential learning, and our students achieve this through an array of exciting internships and other noteworthy accomplishments. Take a look at some of the students we've featured on our communication channels, and be inspired by their hard work and ambition. Want to see your name, face, and #LubinLife story on our website and social media properties? Share your student success with us. Contact Ana Donner Gonzalez, assistant director, digital and social content.
STUDENT ORGANIZATION HONORS AND AWARDS
Beta Alpha Psi Continues Their Winning Streak!
At the 2018 Beta Alpha Psi Annual Conference, Lubin's Iota Lambda chapter was awarded Gold Chapter Status, being one of only ten chapters out of nearly 400 to receive this distinction. At the 2017 Beta Alpha Psi Atlantic Coast Regional Conference, Iota Lambda won first place in the Leadership Development Competition and second place in the Strategic Planning Competition. Kudos to Beta Alpha Psi on their continued achievements!
Pace Advertising Teams Win at AAF Conference!
The New York City and Pleasantville advertising teams competed at the 2018 American Advertising Federation's (AAF) National Student Advertising Competition (NSAC). They both achieved strong results in two separate district competitions. In the first competition, the Pace Pleasantville Advertising Team came in second and in the second competition, the New York City Advertising Team came in first in the presentation category, and third place overall. Congratulations to both teams!
FACULTY BOOKSHELF
ALUMNI NEWS
Lubin Presents: Innovation
Lubin Presents invites everyone to attend a panel discussion and hear alumni experts share their thoughts on fostering innovation and turning vision into reality. Join us on October 22, 2018, to learn how these business leaders are shaping today's business world. Read more.
2018 Westchester Homecoming
Come together with fellow alumni October 25-27, 2018, for Homecoming 2018 in Pleasantville! Celebrate the dedication of the Gene Westmoreland '65 Dugout at Finnerty Field, reconnect at the Alumni Tent BBQ, celebrate Baseball and Men's Lacrosse Alumni Days, cheer on the Pace Football team, and root for Pace Swimming and Diving during their first meet of the year. Read more.

#GivingTuesday
Observed on the Tuesday following Thanksgiving and the widely recognized shopping events Black Friday and Cyber Monday, #GivingTuesday kicks off the charitable season. The entire Pace University community will be invited to participate. Save the date for November 27 and be on the look-out for more information about this dedicated day of giving back.
AS SEEN ON SOCIAL MEDIA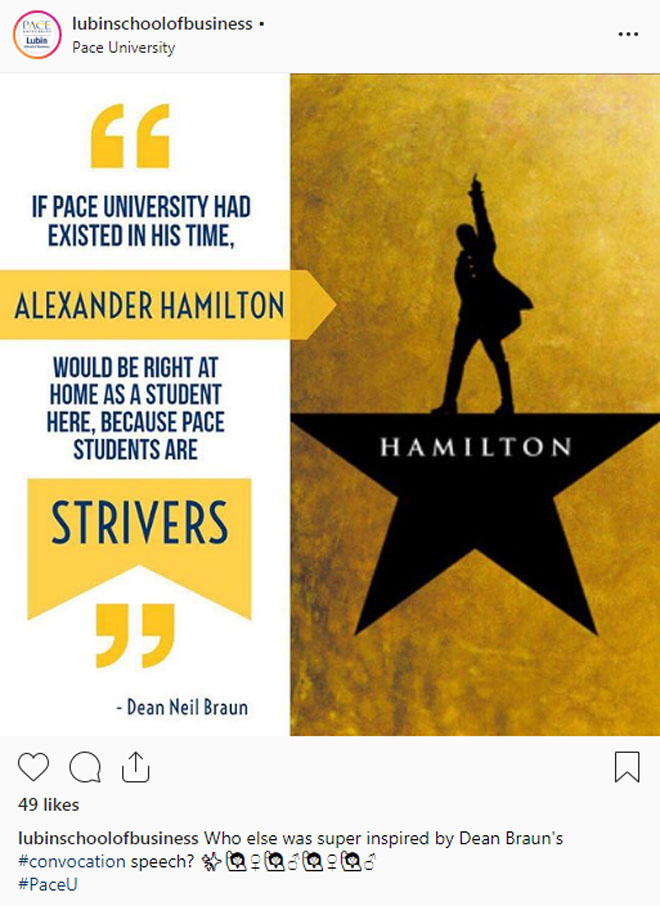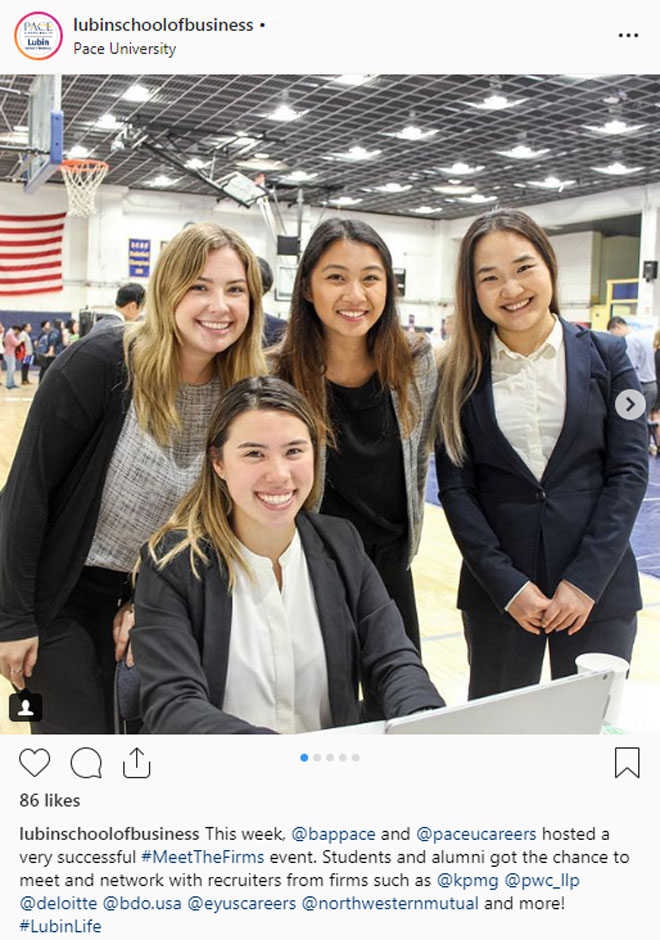 Got News?
What's your #LubinLife story? We want to hear from you about your internships, jobs, exciting hobbies/interests, awards, and/or scholarships! Your #LubinLife story may be featured on our social spaces, website, or even in our #LubinLife newsletter. Contact Ana Donner Gonzalez, assistant director, Digital and Social Content, for more information.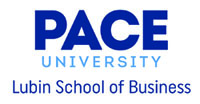 © Pace University
(800) 874-PACE