Learn to Navigate the Competitive Landscape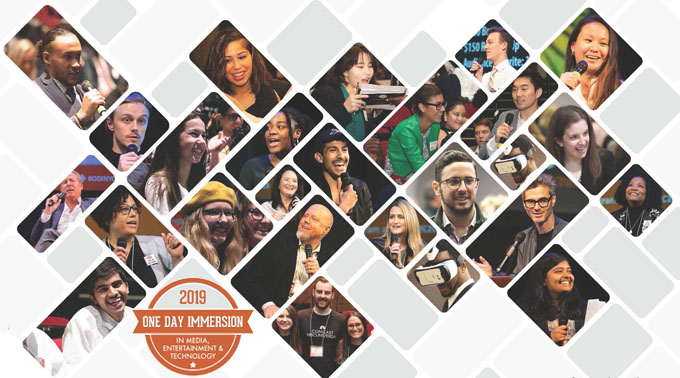 For the fifth year, the One Day Immersion (ODI) conference in Media, Entertainment, and Technology returns to Pace's Schimmel Center on November 1, 2019. This year's conference theme is Navigating the Competitive Landscape. Keynote speakers include Kathleen Finch, chief brand and lifestyle officer, Discovery, and Jonathan Skogmo, founder and CEO, Jukin Media. College students and recent graduates are invited to attend this free event and interact with executives. Register for the conference.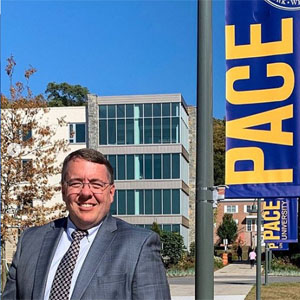 KPMG's Kevin Bolen's Visit to Lubin
On Monday October 14, Kevin Bolen '95, principal, Innovation and Enterprise Solutions and national leader, Strategic Growth Initiatives, KPMG, was an Executive in Residence (EIR) on the Pleasantville campus. Mr. Bolen is responsible for the identification and pursuit of new and emerging opportunities in response to disruptive trends and technologies. By envisioning the future of work, he ensures that KPMG clients are embracing innovations and transforming into 21st century enterprises. View photos and highlights from the event.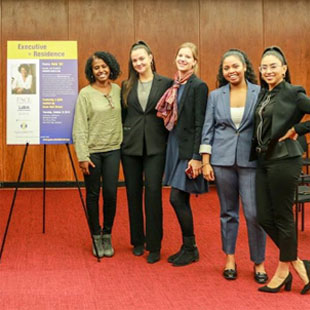 Marketing and Branding Expert, Desiree Reid
On Thursday, October 17, Desiree Reid '82, founder and president, Desiree Reid & Co., was an Executive in Residence (EIR) on the New York City campus. Ms. Reid is one of the leading industry experts in global and multicultural business development, marketing, and branding with proven expertise in strategic design, brand equity building, organizational management, and market expansion. She has been featured in Allure and Essence magazines as a business leader and industry insider to watch. Ms. Reid loves bringing a sense of "disruptive thinking to ambitious brands!" View photos and highlights from the event.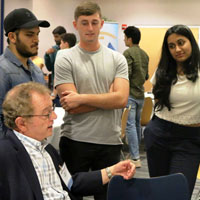 Entrepreneurship Lab Events
The Entrepreneurship Lab (eLab) will host a number of exciting events this semester. On November 14, the eLab will host a panel discussion, which will give students an opportunity to hear from entrepreneurs in different industries and in various stages of business growth. The discussion will be facilitated by Professor Bruce Bachenheimer. The eLab now also houses a media room that students can use for podcast recording, video editing, streaming, and more.
Student Success
Lubin is all about experiential learning and our students achieve this through an array of exciting internships and other noteworthy accomplishments. Take a look at some of the students we've featured on our communication channels and be inspired by their hard work and ambition. Want to see your name, face, and #LubinLife story on our website and social media properties? Share your student success with us. Contact Ana Donner Gonzalez, assistant director, Digital and Social Content.
Faculty Research Showcase
Lubin faculty research is now showcased on an additional platform. SSRN is an online, open-access pre-print platform for sharing research prior to publication, where Pace researchers can upload their research, both working papers and published papers. You can visit the Pace page at www.ssrn.com/link/Pace-U-BSR.html. You can also see Lubin faculty research abstracts in the Lubin Business Review.
Alumni Relations Wants to Hear From You!
From October 17-November 17, Pace University is conducting an all alumni survey. We are proud of our growing, diverse, alumni population. In an effort to get to know you better, we invite you to share your opinion with us. Your feedback is important. Your response will guide us as we create programs and activities aligned with what our alumni value the most. Please take the time (just 10 minutes) to share your opinion with us using the URL www.pace.edu/AlumniSurvey. After the survey, be sure to enter our raffle for a chance to win Pace gear!
Pace Proud Tour 2019
Did you know that your network includes over 150,000 fellow alumni? You're invited to reconnect with us and enjoy more Pace moments on the 2019-2020 Pace Proud Tour! The Tour will be making stops in: Boston, Brooklyn, Los Angeles, Miami, and Fort Lauderdale! The next stop is Homecoming in Pleasantville on October 26. Register today for the Alumni Tent, the football game, and more! Don't see your stop? Visit alumni.pace.edu/paceproudtour to learn how you can vote for us to come to your town!
Recent Alumni Happy Hour
Undergraduate alumni from the classes of 2009-2019 are invited to catch up with former classmates, reunite with Pace friends, and network with fellow alumni as we kick off our new Recent Alumni programming on Thursday, November 14, at 6:00 pm at Distilled. Contact Nina Testa with any questions.
Pace Alumni Virtual Book Club
Our virtual book club focuses on books related to personal and professional development. You can learn more about how it works and join the hundreds of alumni who are already members by registering HERE. We hope you'll participate in this exciting opportunity!
Pace Proud Tour Social Contests
Connect with us virtually through the Pace Proud Tour Social Contests! Each month we'll feature new ways to share your favorite memories, let your fellow alumni hear what you're up to, and tell us what makes you Pace Proud for a chance to win limited edition Pace alumni swag and a chance to be featured! Visit the Ultimate Setter Sweepstakes to show us YOUR Pace Pride!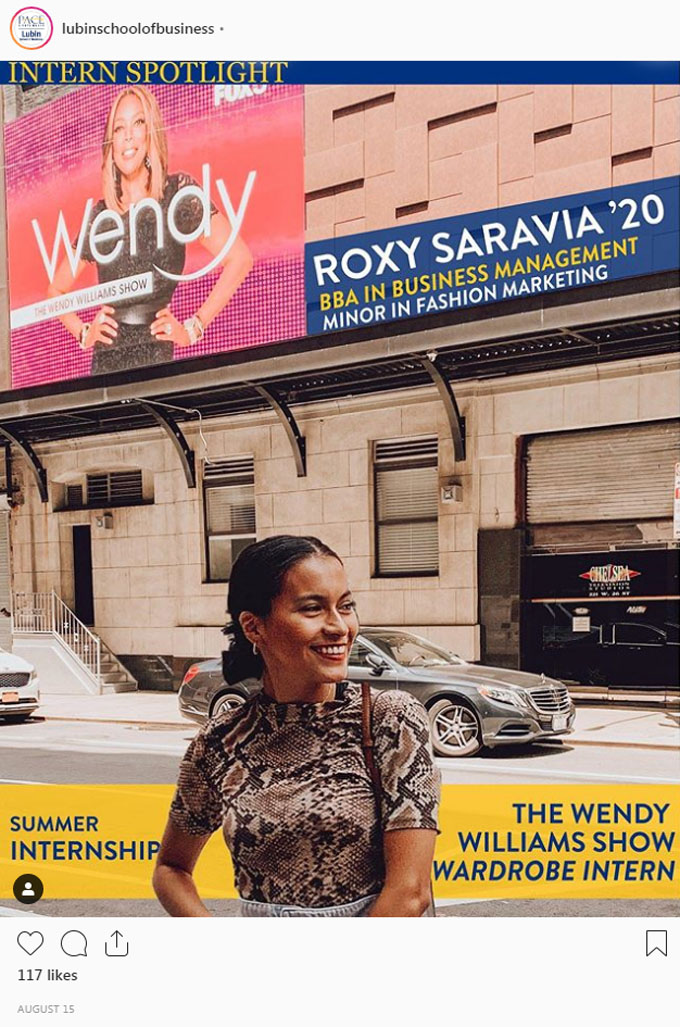 "The biggest skill I've learned is how to clearly communicate my thoughts and any questions I have. How can you get something done when you don't understand what you're being asked to do? Ask, ask, ask! Never be afraid to ask questions," says rising senior Roxy Saravia about her summer internship.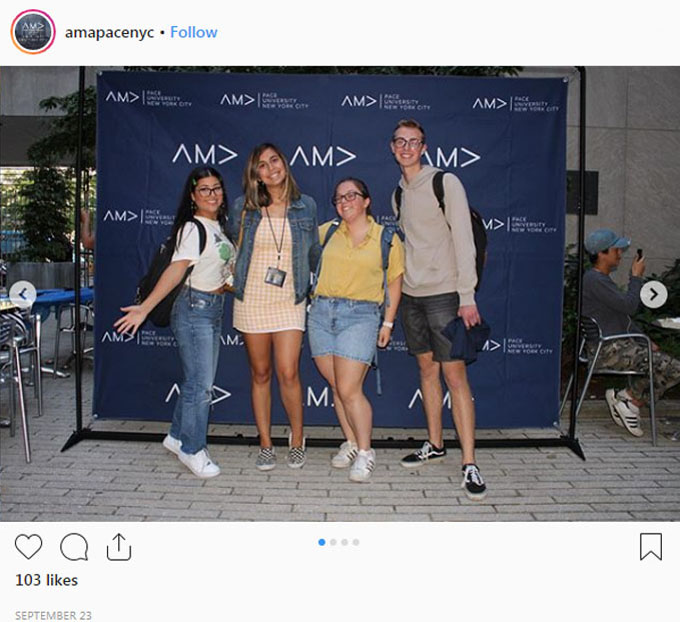 The AMA Pace NYC kickoff event on September 17
Got News?
What's your #LubinLife story? We want to hear from you about your internships, jobs, exciting hobbies/interests, awards, and/or scholarships! Your #LubinLife story may be featured on our social spaces, website, or even in our #LubinLife newsletter. Contact Ana Donner Gonzalez, assistant director, Digital and Social Content, for more information.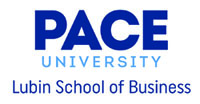 © Pace University
(800) 874-PACE