Message from Dean Lawrence G. Singleton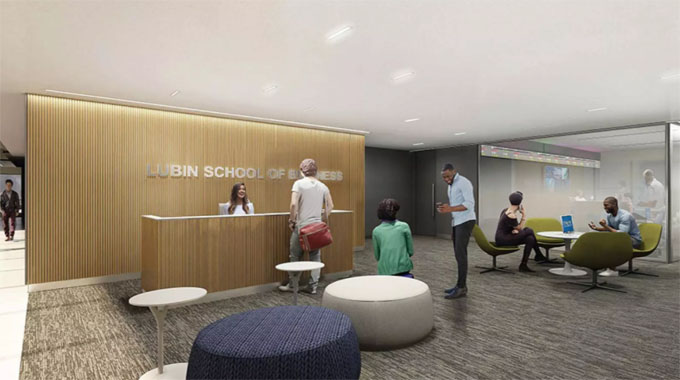 Renewal! The Fall 2021 semester at Lubin has been marked by transformative change. Major renovations to Lubin's space on the New York City campus, One Pace Plaza building, has provided students with more independent and collaborative space. State-of-the-art facilities and technology enhance students' learning experiences overall. These marked improvements herald in a new era for Lubin, providing significant accoutrements for students so that they remain market ready and competitive on their respective paths to success.

Restoration and renewal figured largely into our strategic plans this semester. This semester also saw the resumption of programs and activities, which were postponed due to the pandemic. The semester also saw the introduction of new programs and events that even featured a diplomat. Read about it all in this issue.

As we wrap up a successful semester with everyone back on campus and back in the office, I would like to wish you all Happy Holidays! Take the much-needed time for rest, relaxation, and restoration.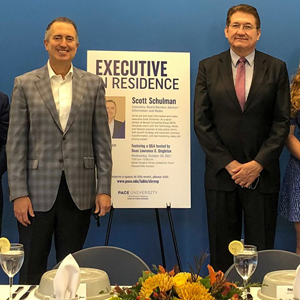 Scott Schulman, Information and Media Business Leader
On Wednesday, October 20, Scott Schulman was an Executive in Residence (EIR) on the Pleasantville campus. Mr. Schulman was very inspiring and shed light on how his determination to run a successful business motivated him to achieve what he has accomplished today. An important takeaway that he shared for aspiring entrepreneurs and business leaders is to understand the needs of their customers and create targeted valuable products so that opportunities will be limitless.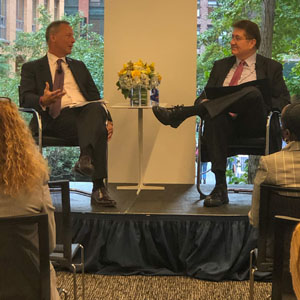 CEO of Munich Reinsurance, Anthony Kuczinski '81
On Wednesday, October 27, Anthony Kuczinski '81, president and CEO, Munich Reinsurance America Inc., was an Executive in Residence (EIR) on the New York City campus. After graduating from Pace, Mr. Kuczinski began his career in finance before transitioning into the insurance and reinsurance business. Despite wanting to remain in finance, he took a chance and fell in love with the insurance industry. During his visit, he remarked that without risk, successful ventures would be impossible. His advice to students: "Don't quit when you fail; you don't become successful without failure."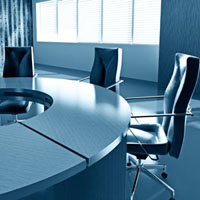 Dean's Roundtable Event Series Continues Online
Although students are back on campus this semester, we decided to continue our Dean's Roundtable event series virtually. Students from both campuses can connect with more diverse alumni hailing from all over the world, which provides valuable active learning opportunities. Dean Singleton has led conversations with accomplished alumni from several industries including finance, healthcare, marketing, hospitality, retail, and more. Learn more about Dean's Roundtable events.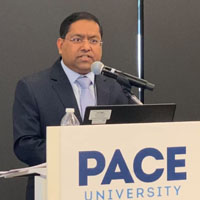 Visit From Consul General of India
On October 5, Consul General of India in New York, Randhir Jaiswal, visited the New York City campus to speak about sustainability. Various industries are increasingly becoming more mindful and implementing sustainability into their business models. India's economy is noted for being an international leader in the sustainability movement. Mr. Jaiswal, who has been part of India's delegation on climate change conferences, spoke about India's approach and action on sustainable development.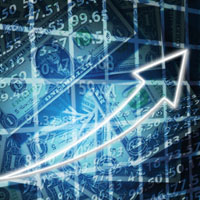 Student Managed Investment Portfolio Funds Scholarships
The Student Managed Investment Portfolio (SMIP) is part of the Finance 357 course taught by Professor Ron Filante. For the August 31, 2020 - August 31, 2021 reporting period, the SMIP gained 30.12%, exceeding its benchmark, the S&P 500, for this period. This represents the portfolio's best year since 2013 in percentage terms, and its best year ever in dollar gain. In 2021, the SMIP contributed $70,961 to the Lubin Scholarship Fund to help underwrite the scholastic achievements of deserving candidates.
Fall Activities at the Entrepreneurship Lab
The Entrepreneurship Lab (eLab) continued its mission of Opportunity Through Entrepreneurship with a line-up of fall activities for students. The Ninth Annual Networking Event, held on October 13, featured special guest speaker and Pace alumna Connie Weisman '82, VP, Corporate Partnerships, Plug and Play Tech Center, and connected students interested in exploring or developing their own businesses with successful entrepreneurs. On November 17, the eLab also hosted a Virtual Roundtable Conversation with Pace alumna Sandra Shpilberg '97, a successful serial entrepreneur, investor, and author.
SBDC Webinar Series
Pace University's Small Business Development Center (SBDC) is hosting their webinar series, which features experts in small business, finance, marketing, accounting, intellectual property rights, sustainability, and many other fields. All trainings hosted by the Pace University SBDC are provided at no cost to entrepreneurs and often feature presentations by Pace University faculty. Visit the SBDC's events page to learn more and register for upcoming webinars.
Beta Gamma Sigma
Lubin's Beta Gamma Sigma (BGS) chapter has been awarded "High Honors" for 2020-2021. The chapter has received this distinction every year since 2014. Only ten percent of the 550+ international BGS chapters receive this recognition. Every year, BGS students at Pace attend the BGS Global Leadership Summit, where they get to network with peers from all over the world.
We Got You!
Visit Pace's Student Success Tools website. The site, created through the Provost's Office, is a central hub where students can locate a wide array of information on key academic/advising, social, financial, and mental health resources, services, and programs. Pace is committed to helping all students succeed, so don't hesitate to reach out to the departments and centers available to support you.
Data Science and Analytics Hackathons
The Lubin School of Business and Dataiku co-sponsored a data science hackathon in which students showcased their skills in wrangling, analyzing, and storytelling with data. Launched on October 22, student teams analyzed New York City home sales data to help sellers understand the attributes of a home most influential in determining price. Additionally, Mindshare, a division of GroupM, is co-sponsoring a virtual hackathon for Lubin graduate students on December 13 and 14. Standout participants and winners will be given the opportunity to interview for a role on Mindshare's Advanced Analytics Team. This marks the 11th year of GroupM's partnership with Lubin.
NEW Center for Sustainable Business
Lubin's newly launched Center for Sustainable Business (CSB) prepares students for the future job market, as well as provides responsible businesses who prioritize Environmental, Social, and Governance (ESG) principles with adequately trained professionals and leaders. The Center aims to equip students, faculty, professionals, and communities with the skills necessary to maintain sustainable business models. Overall, the CSB will be an education and networking hub where business models and ESG stewardship are intertwined.
The Media Marketing Veteran
Steven Montesantos '19, '21 was ready to take advantage of various opportunities when he transferred to Pace. He is participating in the Veteran Immersion Program at ViacomCBS, has been a member of multiple student organizations, has participated in case competitions, and has maintained an active relationship with Career Services, his professors, and his classmates. He has even landed a second internship with ViacomCBS' Integrated Marketing Activation Team for Nickelodeon. Not surprisingly, Steven has more than one full-time offer to choose from after graduating this December. Kudos to him! Read our Q&A with Steven.
NEW Combined BBA/MBA Program
Lubin has launched a new combined BBA/MBA degree program providing a fast track to earning both degrees. The BBA/MBA program offers eleven different undergraduate concentrations and ten MBA areas of study, allowing for maximum flexibility and customization of the academic experience.


Certified Compliance and Regulatory Professional (CCRP®)
Lubin's Center for Global Governance, Reporting, and Regulation's Certified Compliance and Regulatory Professional (CCRP®) program continues to offer high-quality training for banking and compliance professionals working in today's rapidly evolving regulatory environment. Over 250 industry professionals have earned this certification and the program is continuously updated for changes in the regulatory environment. The program is offered solely online (asynchronously). For more information, visit the CCRP® website or contact Brian Pew, director, Center for Global Business Programs, ccrp@pace.edu.
The Pace University Alumni Association invites all alumni to join their first official open house online! At this special virtual event guests will have an opportunity to meet the Association's volunteer leaders, hear more about the work of the Association, and be the first to know what's to come. RSVP to join us on Zoom for a fun evening with fellow Pace alumni and learn more about the Association's goal to serve as an innovative entity that will aid in building community and enhancing your alumni experience. Overall, Pace alumni are an extraordinary community of advocates, entrepreneurs, thinkers, creatives, and more. The Association is the vehicle that allows you to connect with these community members. We hope that you will get involved, help Pace enhance your alumni experience, and most importantly continue to make your voice heard.

Our Association's School Committees provide a way for alumni to engage and connect with one another based on affinity to your school. Designed to foster a forum where diverse experiences, perspectives, and resources can be shared, each committee will facilitate events, school/college-specific programming, networking for alumni, and dialogue with current students in partnership with the Office of Alumni Relations. Lubin's Committee Chair is Harry Mayo '61. To learn more, visit our webpage or email Dana Burr '21.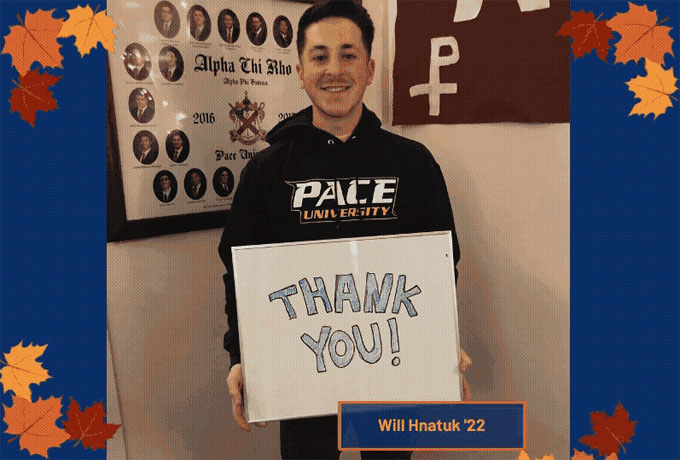 During the past Thanksgiving season, Pace students joined together to express their gratitude to alumni, donors, and friends who generously support their education. We hope their messages of thanks help convey the extraordinary impact of your investment in the lives of our students. Thank you for your dedication to Pace!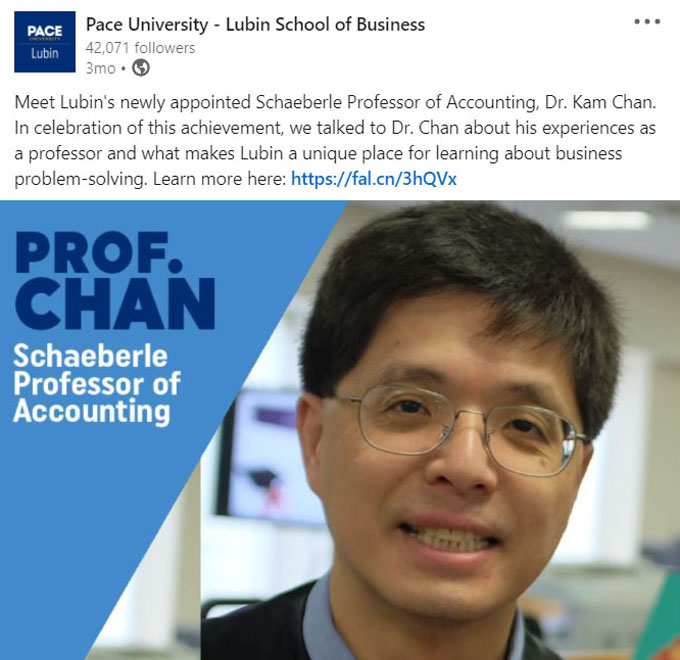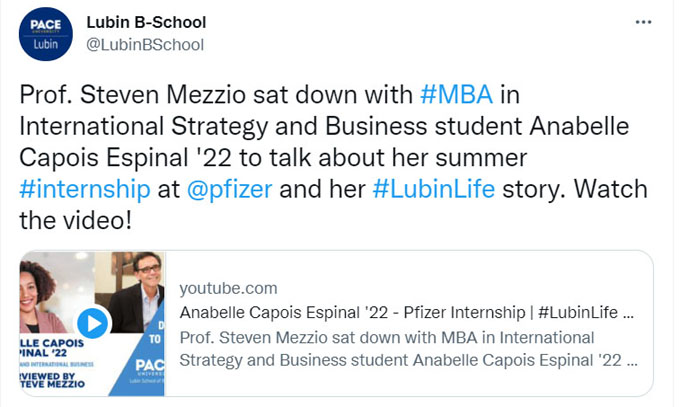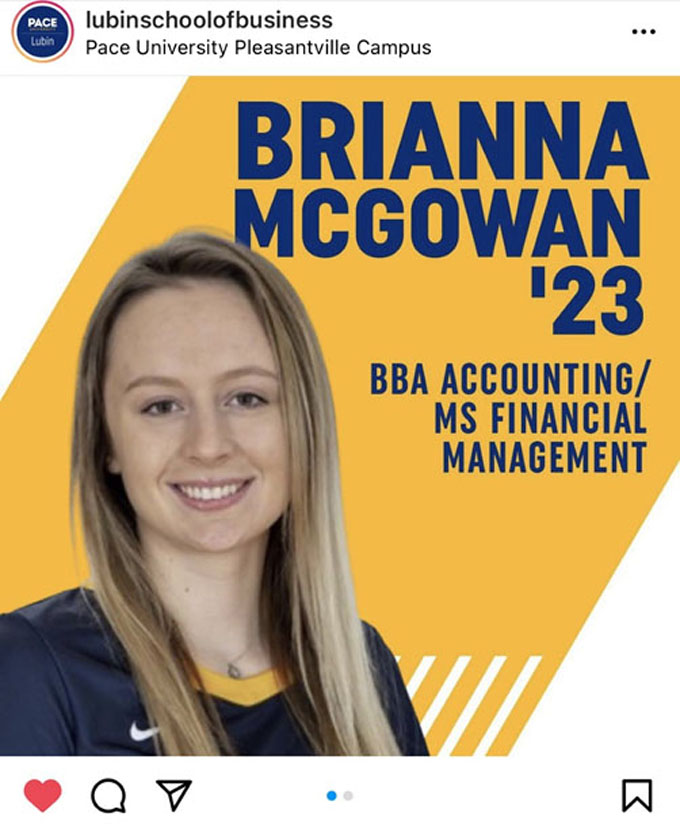 Got News?
What's your #LubinLife story? We want to hear from you about your internships, jobs, exciting hobbies/interests, awards, and/or scholarships! Your #LubinLife story may be featured on our social spaces, website, or even in our #LubinLife newsletter. Contact Matrisha Blyden, staff associate, for more information.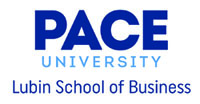 © Pace University
(800) 874-PACE