Message from Dean Lawrence G. Singleton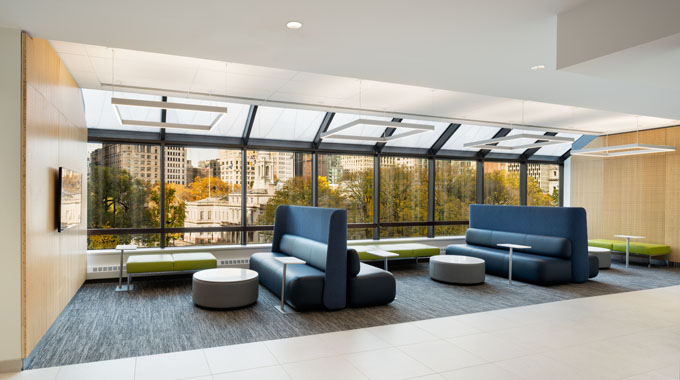 Renewal and restoration are concepts that continue to be embraced at Lubin. Our newly renovated spaces and state-of-the-art technological upgrades have provided students with much needed collaborative rooms. I regularly see students working on group projects or individual assignments when I walk the floor. Students have made it known that the renovation has been integral to bringing them together to brainstorm ideas and put plans in action.

Action. This semester we have held a number of events and programs for our different stakeholders. Our students also continue to distinguish themselves in competitions. You will have an opportunity to learn about these things and more in this issue of the newsletter. I would also like to announce that Lubin is inviting applications and nominations for the Gabelli Endowed Anthony R. Pustorino Distinguished Professorship in Accounting (Fall 2022). In addition to teaching at both the undergraduate and graduate levels, the holder of this chair will develop and mentor younger faculty members, make significant contributions to the intellectual and professional environment of the Lubin School of Business, and will be a leader in the Accounting Department. More information will follow in forthcoming issues.

Enjoy reading our Winter issue of #LubinLife.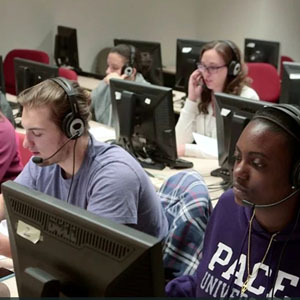 Participate in the Second Annual Pace Business Poll!
We would like to include you in our second annual Pace Business Poll, which is conducted by Pace Connect, our student research group on the Pleasantville Campus. If you work in management for a business in New York City, Westchester, or Long Island, please help us include your voice by completing our poll. Thank you. Watch for results in May!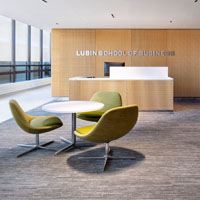 Dean's Roundtable
The Dean's Roundtable event series continues to provide valuable active learning opportunities for students. So far this semester, Dean Singleton has led conversations with accomplished alumni from many industries including finance, retail, entertainment, and more. Read more about the program and upcoming events here.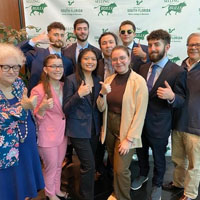 On a Winning Streak! The Lubin Sales Team
The Lubin Sales Team continues to prove that they are absolute rockstars! At this year's "Selling with the Bulls" tournament at the University of South Florida, the team took home top honors for their sales presentations. Lubin student Leah Gaffney serves as team captain. Everyone on the team performed admirably and had a fantastic learning experience. Faculty advisors to the team are Professors Harvey Markovitz and Deborah Fain. We are so proud of this Blue and Gold team!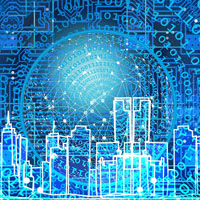 Casing Out the Competition
Three teams of Pace students entered the GroupM/Mindshare Hackathon competing against students from top universities such as Columbia, Fordham, and NYU. The students were tasked with pitching a data-driven media strategy using their problem-solving skills and an abundance of creativity. Lubin graduate students Katie Barry and Lakshmi Patil placed second and received the "Special Mention Award in Data Analytics" at the competition.
A Passion for Business and the Arts
Jennifer Zaurov '22 is a Dual MBA Business and Marketing Management student with a concentration in Entertainment. Although she wanted to attend classes on campus last year, the pandemic quickly changed her plans. She has now made it to the Big Apple and is the co-founder of the Arts and Entertainment Management Graduate Club called TEAM Pace at Lubin. She is also actively involved in numerous student clubs and professional organizations. Meet Jennifer and see more of our Student Success stories. Want to share your #LubinLife story with our community? Contact Matrisha Blyden, staff associate.
Faculty Spotlight: Dr. Ibraiz Tarique
"My philosophy, and the way I teach talent management, is that it's a subset of human resource management that focuses on your most valuable employees," says Dr. Ibraiz Tarique in our latest Faculty Spotlight. Dr. Tarique is the chair of the Management and Management Science department, an expert on global talent management, and the author of several textbooks. Read Dr. Tarique's thoughts on how the pandemic has changed the talent management industry.
NEW COURSE: Finance and Society
In his new course FIN 396H: Finance and Society, which met during the Fall 2021 semester, Dr. PV Viswanath taught his students about the role finance plays in society, how financial infrastructure is created through the interactions of different interest groups, and how this affects peoples' lives. Throughout the semester students were involved in research projects with two organizations: New York City Economic Development Corporation (NYCEDC) and The Financial Gym (a service that helps clients with personal financial planning). See what students in FIN 396H learned about the connection between finance and the world in which we live.
Spring Activities at the Small Business Development Center
Have you always dreamed about starting your own company or wondered how to boost your existing venture? The Pace Small Business Development Center (SBDC) provides free 1:1 business advisory services helping entrepreneurs with financing, marketing, operations, procurement, and more. The Pace SBDC also hosts a range of free webinars; upcoming sessions include business entity formation, intellectual property rights, and sales strategies. Contact the SBDC to meet with a Business Advisor or visit the website for more information.
In Remembrance: Jordan Robinson
We mourn the loss of Jordan Robinson, a Lubin student and a proud brother of Alpha Phi Alpha Fraternity, Inc. who was involved with many student organizations, including the Black Student Union and Students of Caribbean Awareness. Jordan was also a beloved son and brother, a former member of our Setters football team, and an aspiring entrepreneur who owned his own design business. The Lubin School of Business extends heartfelt condolences to Jordan's family and friends. He will be greatly missed by his Pace family.
Save the Date: Spirit of Pace Awards Dinner
This year's Spirit of Pace Awards Dinner will honor Donna Murphy '82 with the Leaders in Management Award and the following Lubin School of Business alumni: Ashu Rathor '01 — Lubin Alumni Achievement Award; Barry M. Gosin — Lifetime Achievement Award; and Susan S. Wallach — Impact Award. The ceremony will be held at Cipriani 42nd Street on Thursday, June 9.
Meet Alexandra Cristin '11
Alexandra Cristin '11 is savvy when it comes to business. With $1,500 in her pocket, she launched a multi-million-dollar company, Glam Seamless, a premium quality hair extension brand that provides hair solutions for every budget. What began as a post-graduate idea has grown into a notable and go-to brand among celebrities and everyday consumers alike.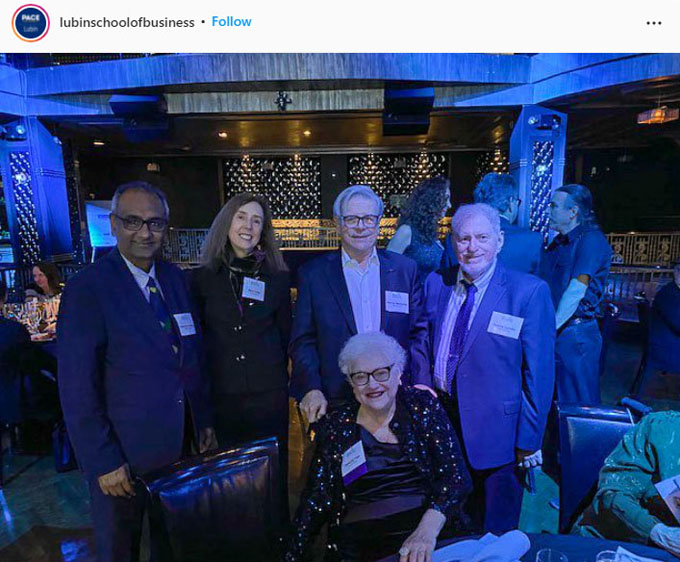 Congratulations to Prof. Deborah Fain on being honored by the @dmc.ny as a recipient of the Silver Apple Award for her distinguished career in direct marketing. This award recognizes direct marketers who have not only made strides within their areas of expertise but who have also generously contributed their time and talents to the industry for 25 years or more. Deborah continues to be such an inspiration to our students!
Got News?
What's your #LubinLife story? We want to hear from you about your internships, jobs, exciting hobbies/interests, awards, and/or scholarships! Your #LubinLife story may be featured on our social spaces, website, or even in our #LubinLife newsletter. Contact Matrisha Blyden, staff associate, for more information.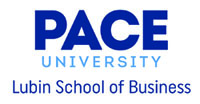 © Pace University
(800) 874-PACE