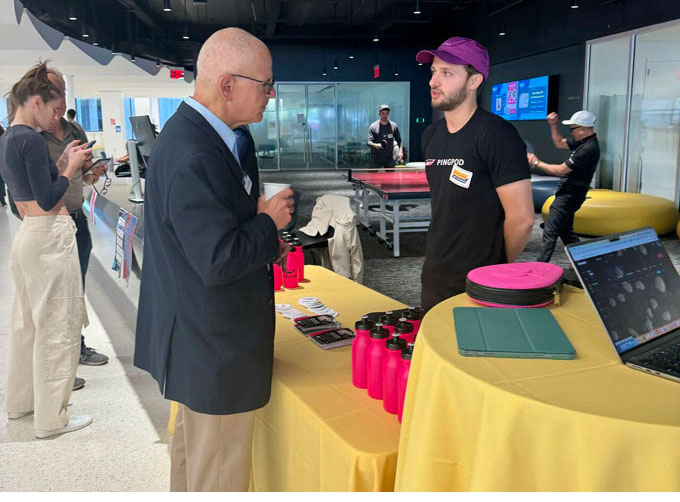 Innovation is our order of business at Lubin. Earlier this month, the Pace Entrepreneurship Studio (PES) hosted Innovation Day, a half-day event that promotes innovation and entrepreneurship in technology. Panel discussions and addresses featured tech and industry experts from companies such as Meta, Tawkify, Cozen O'Connor, AnD Ventures, Speedemissions, Gamr, and more. One message that came through loud and clear was that an entrepreneurial mindset leads to transformation and growth in business. Through PES, we are providing a launchpad for existing and aspiring entrepreneurs to let their ideas and innovative thinking lead the way.

Speaking of innovation and transformation, take a look at this issue of #LubinLife and see the myriad ways we are growing and leading on different fronts.
- Dean Lawrence G. Singleton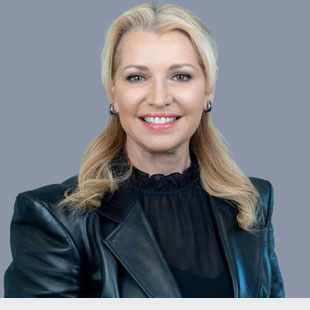 Executive in Residence
Mindy Grossman, partner, The Consello Group, will be Lubin's Executive in Residence on October 30. She is a high-energy, disruptive leader with extensive experience in building and transforming consumer brands. As a former president and CEO of Weight Watchers, she led the company's rebrand to WW. Recognized by Forbes as one of "The 100 Most Powerful Women," she has also held C-suite and senior positions with HSNi, Nike, and Polo Ralph Lauren Corporation.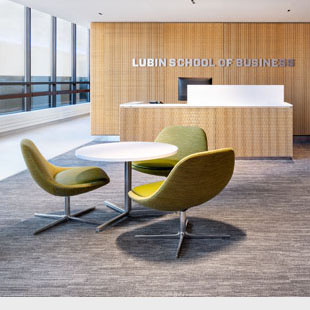 Dean's Roundtable
The Dean's Roundtable event series continues to provide valuable active learning opportunities for students. Join Dean Singleton as he hosts online conversations with accomplished alumni from many industries including finance, retail, entertainment, and more.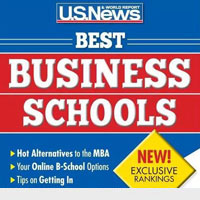 Lubin's MBA Programs Among The Best
U.S. News & World Report has ranked the Lubin School of Business' full-time graduate MBA programs among the best. According to U.S. News, "Best Business Schools rankings compare full-time MBA programs on their career placement success, student excellence and qualitative assessments by experts." This acknowledgment speaks to the value of a Lubin School of Business education.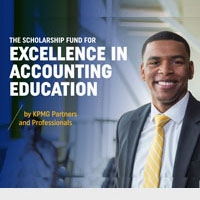 Apply For the KMPG Scholarship!
A Scholarship Fund for Excellence in Accounting Education has been established by KPMG Partners and Professionals to promote educational excellence in accounting at Lubin. Scholarship awards in the amount of $5,000 will be given to outstanding students enrolled in a qualified accounting program. Apply now!
International Field Studies, Semester Abroad, and Travel Scholarships 
Faculty-led international marketing field studies will take Lubin students to Denmark and Sweden in the spring. Travel scholarships in the amount of $2,500 and $3,500, respectively, are available to help qualified students participate in field studies and semester abroad programs. Apply now!
Calling All Environmental Entrepreneurs - Project Planet USA!
Speedemissions and The Front Yard at Pace University have collaborated to launch Project Planet USA, an initiative aimed at protecting the planet from climate disasters. Pace students and faculty with potential tech solutions that are geared toward protecting the planet may submit their concepts, innovative ideas, or solutions for a chance to win a cash grant in the amount of $15,000 and in-kind professional services consisting of mentoring, public relations, and network connections. Learn more and submit your ideas here before December 19, 2023!
Emmy Award Winner In Our Midst!
Congratulations to Lubin's very own Assistant Director of Digital and Social Content, Sophia Perricone, for winning an Emmy award in the business news category this year! Prior to working for Lubin, Sophia was a news reporter. We're proud of you, Sophia!
Founders' Day: Happy Birthday, Joseph Lubin
Lubin will celebrate the birthday of our school's namesake, Joseph Lubin, as well as the lives of the university's founders, Homer and Charles Pace, during a special Founders' Day event on Tuesday, November 14. The entire Pace community is invited to join us for a walk through history, exciting games with prizes, photos, a slice of birthday cake, and much more.
Grab Your Headphones - Season 2 Of The Lubin Link Is Here
The Lubin Link podcast returns for its second season. Tune in to hear how guests went from go-getting Lubin students to successful entrepreneurs, fashion gurus, sales leaders, and more.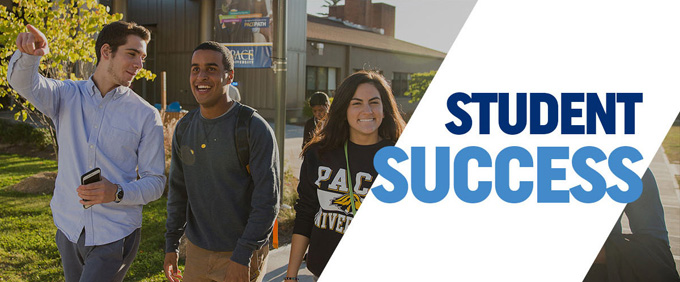 Big Opportunities At A Big Four: Syed Mubasheer Ahmed '23
From being involved in on-campus clubs to taking advantage of resources available to students, Syed Mubasheer Ahmed '23 exemplifies #LubinLife. See how his hard work and networking skills landed him a coveted summer internship at EY.
BAP Reaches Superior Status
Thanks to their commitment to community service, professional development, and involvement in regional and national activities, Pace University's Beta Alpha Psi chapter has achieved "Superior Status!"
The Lubin Sales Team Sets Off For Success
In November, our award-winning Lubin Sales Team will travel to Orlando, Florida, to compete in the International Collegiate Sales Competition, where they will be tasked with putting their problem-solving and relationship-development skills to the test. Good luck, Sales Team!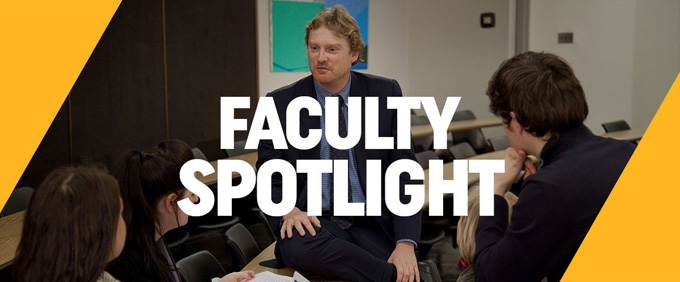 Faculty Excellence
Congratulations to Lubin's outstanding faculty who have won well-deserved departmental and scholarly awards: Vincent Barrella, Myojung Cho, Burcin Col, Leigh Anne Donovan, Barbara Farrell, Mark Fichtenbaum, Pradeep Gopalakrishna, Freddy Huang, Iuliana Ismailescu, Chongyu Lu, Christian Madu, Jessica Magaldi, Katherine Richardson, PV Viswanath, and Janice Winch. We are thankful for their unwavering dedication, tireless efforts, and exceptional contributions to our academic community.
Myojung Cho - Winning In Research
After setting out to research whether CEO pay-performance sensitivity to shareholder wealth is related to the use of non-financial performance measures in incentive contracts, Professor Myojung Cho, PhD, received an "Outstanding Paper" recognition by the 2023 Emerald Publishing Emerald Literati Awards.
Showbiz Means Business
Lubin's newly launched MBA in Arts and Entertainment Management program provides hands-on experience, as well as an insider's view of showbiz supported by a cutting-edge curriculum, accomplished faculty, and stellar guest lecturers. Students will have access to unique networking opportunities as they are prepared for management and leadership positions in a variety of arts and entertainment fields.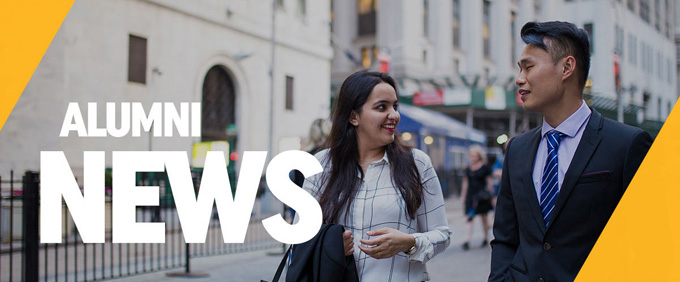 Giving Back
Join Pace University as we celebrate Giving Tuesday on November 28. This is your opportunity to give back and support the area of Pace that means the most to you. Let's meet the moment TUEgether.
Meet Stephanie Andujar '09
There are a variety of words to describe actress Stephanie Andujar '09. Talented, brave, resilient. None of them perfectly encapsulates the entirety of her character. This Pace alumna has acted in Academy Award-winning films, graced stages, and created her own production company, "Andujar Productions."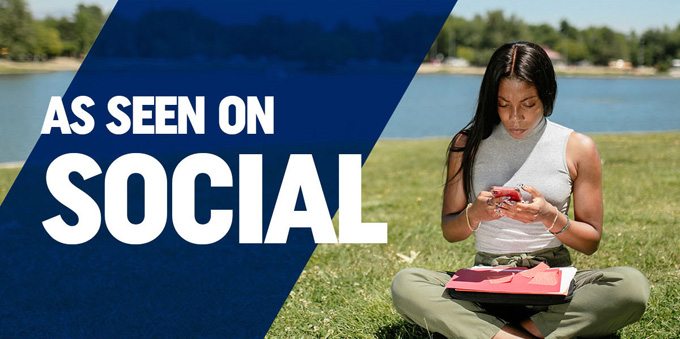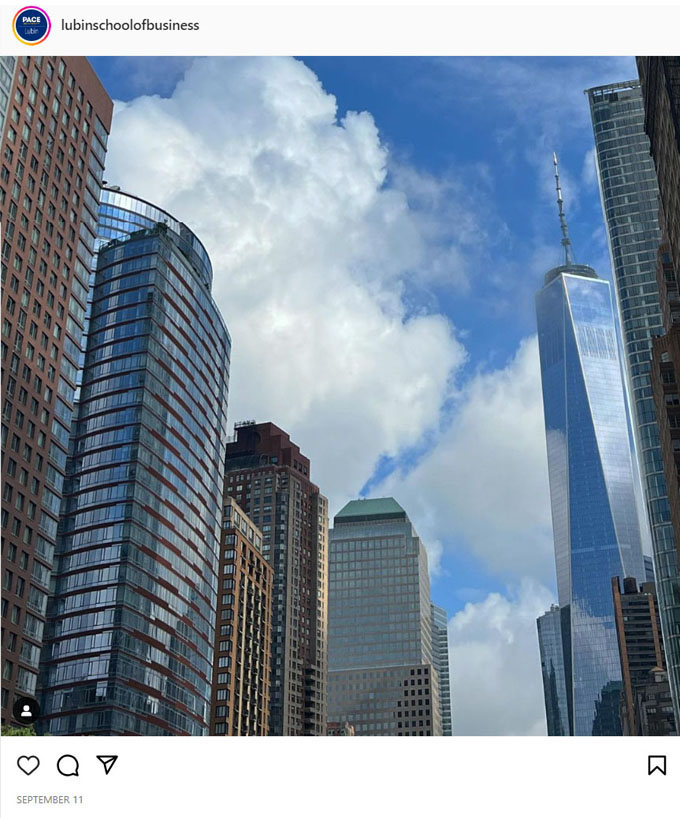 On Monday, September 11, the Lubin School of Business joined the 9/11 Memorial and Museum in sharing a photo of the sky to honor and remember those killed that day 22 years ago.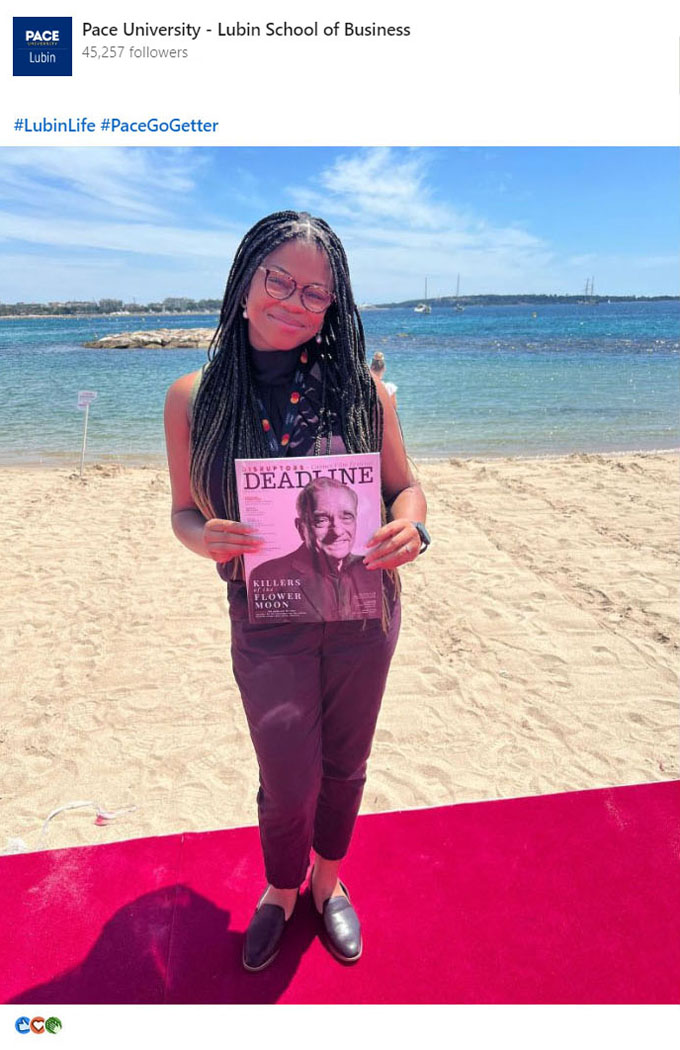 *Cannes* it get any cooler than this? Over the summer, MS in Arts and Entertainment student Jaden Henderson '24 attended the Cannes Film Festival with Voltage Pictures.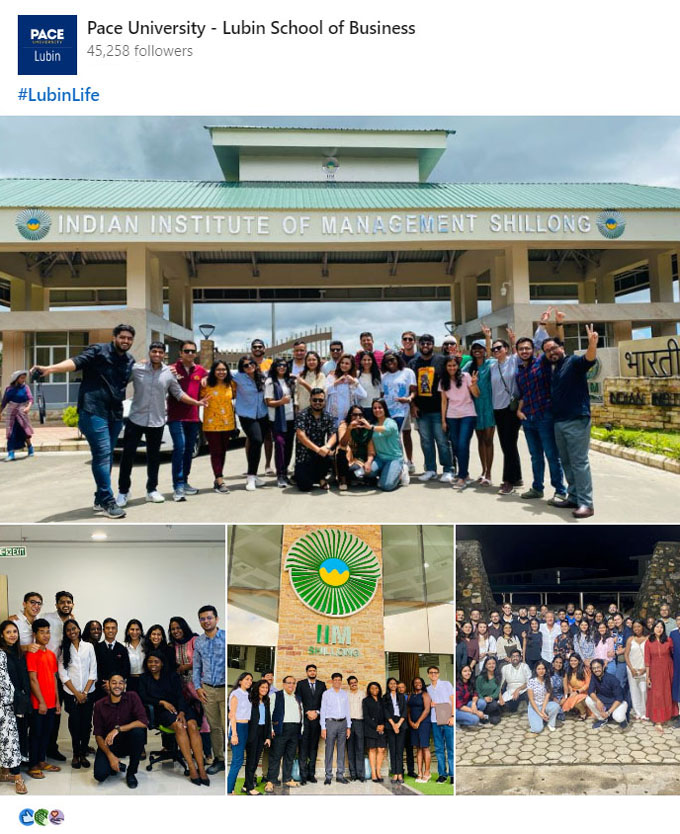 A small cohort of Lubin graduate students spent an exciting week at the Indian Institute of Management, Shillong to learn about sustainable business, marketing, and finance.

Tell us your #LubinLife story. We want to hear about your internships, jobs, exciting hobbies/interests, awards, scholarships, and more to feature them on our social spaces and website. Contact Sophia Perricone, assistant director, Digital/Social Content.