Message from Dean Lawrence G. Singleton
As the new Dean of the Lubin School of Business, I am delighted to build on the school's reputation of preparing graduates for rewarding employment and upward mobility. I look forward to working with students, faculty, staff, leadership, and alumni to continue this tradition during what is a critical, competitive, and exciting time for both business and education. As an AACSB-accredited, internationally ranked leader in business education, experiential learning is the hallmark of a Lubin education and it has led to strong outcomes: high undergraduate (92%) and graduate (95%) placement rates, internships, and student success in competitions. Program innovation and my deep dedication to preparing students for successful careers will continue to move Lubin forward with distinction. Although we are in the midst of a pandemic, rest assured Lubin and its outstanding faculty are working diligently to deliver a business education like none other. In this issue of #LubinLife, take a look at our achievements and find out what other things we have in store.
Student Managed Investment Portfolio (SMIP) Outperforms Again!
The Student Managed Investment Portfolio (SMIP) fund announced its end-of-fiscal-year (8/31/19 - 8/31/20) results. The fund outperformed the S&P 500 (36.2% compared to 19.6%). To date, the fund has returned half of its profits to the school in the amount of $220,000 (aggregate total), some of which has been used to fund scholarships. Students who manage the investment portfolio engage in direct contact with leading financial analysts and hedge fund managers. This video showcases them in action.
Fall Activities at the Entrepreneurship Lab
On October 7, the Entrepreneurship Lab (eLab) hosted an online networking event featuring a Pace University alumna. The eLab also has a media studio that students, clubs, and groups use for recording, streaming, and editing purposes. Active student enterprises include online magazines, Etsy stores, and blogs for food and fashion. To learn more, place your name on the mailing list or email Jonathan Lee, the eLab's associate director.
Dean's Roundtable Goes Virtual
Although this semester the round table looks more like multiple squares on a computer screen, the Dean's Roundtable event series continues to provide valuable active learning opportunities for students. So far this semester, Dean Singleton has led conversations with accomplished alumni from many industries including finance, retail, entertainment, and more. Read more about the program and upcoming events here.
Meet and Greet with Dean Singleton
Ever since Dean Singleton joined the Lubin family, students have been eager to get to know him. This is why the Lubin School of Business joined forces with student leaders on both campuses to host hybrid (in-person and virtual) Meet and Greet events. During these events, students were able to get to know Dean Singleton by playing the game Two Truths and a Lie and they submitted questions via social media. All who participated had a wonderful time.
SBDC Pandemic Response
Since COVID-19 struck, the Pace Small Business Development Center (SBDC) has worked with hundreds of small business owners. They have helped clients secure millions of dollars in grants from public- and private-sector sources as well as 0% and low interest loans to support their cash flow needs. During these challenging times, they are encouraging clients to reimagine their business models. The Pace SBDC also regularly updates its COVID-19 small business resource page, continues to host a range of free small business webinars, and highlights select small business clients on their web page.
Student Success
Lubin student Mike Prusnofsky found in his MBA lessons the transferrable skills he needed in order to accomplish a big item on his to-do list: publishing his first novel. Read about Mike's journey and how it was influenced by his experiences at Pace. See more of our Student Success stories. Want to share your #LubinLife story with our community? Contact Ana Donner Gonzalez, assistant director, Digital and Social Content.
Student Organizations and Awards
Through competitions and events offered at the eLab, Lubin students Manoela Nery de Morais and Chimegsaikhan Munkhbayar met Seidenberg students Ajinkya Vilasrao Datalkar and Helen Tsai. They joined forces to participate in the IBM Call for Code Global Challenge and were named the winners. The $200,000 grand prize was awarded to them as well as IBM's support to see their creation deployed. Congratulations to the participants, three of whom are now alumni (Helen is still currently a student)!

Beta Alpha Psi (BAP) brought home a Best Practices award from the Atlantic Coast Regional Virtual Meeting. The chapter won first place for Innovation based on an assessment of activities created and completed by them to further goals identified by the BAP board of directors and Deloitte LLP.

Aissatou Gningue, a BAP eboard member, has landed a coveted opportunity with the United Nations (UN) as part of the Millennium Fellowship Class of 2020. Her mission is to advance the UN's Sustainable Development Goal of Quality Education.
Faculty Bookshelf
Eric Kessler, PhD, distinguished professor, recently had his new book, Wise Leadership: A Toolbox for Sustainable Success, published with Routledge and featured by the University of Chicago's Center for Practical Wisdom. The book provides current and emerging leaders with a grounded, intuitive framework to help them master multiple leadership identities, equipping them with a dynamic repertoire of flexible leadership skills that will help them succeed in any situation.
Program News
Lubin is offering a new combined degree program: BBA Management or Marketing/MS in Human Resources Management. The program offers a fast track to earning a BBA degree and an MS in Human Resources Management. Students take only 120 credits at the undergraduate level and enter a 30-credit MS program in their senior year, emerging as well-qualified graduates ready to work in the lucrative field of human resources management.
Rankings
Lubin's Executive Doctoral Program (DPS) was recently ranked 6th overall in the world, 3rd in corporate social responsibility (CSR) focus worldwide, and 1st overall in the United States by the 2020 Dubai Ranking®. The DPS program is for executives with a minimum of ten years of professional experience who aspire to further their professional accomplishments through a terminal degree or transition to an academic career.
Setters Gone Virtual
Opportunities to connect with fellow alumni continue as part of our Setters Gone Virtual event series offering a variety of programs. Keep up with the latest fitness classes with Pace Athletics, head back to class with Pace professors, share your love of sport, or go behind the scenes of the entertainment industry with notable alumni. There truly is something for everyone!

GOLD Alumni
Graduates of the Last Decade or GOLD, is a network for Pace University undergraduate alumni of the last ten years. Connect with current students, join events, or volunteer. GOLD is kicking off a virtual entrepreneur series featuring recent graduates who have created robust businesses since graduating. Sign-up here.
If you walked through Times Square early this summer, you might have seen a familiar face on the billboards at 1585 Broadway. It was John-Carlo, a rising senior currently pursuing a Finance BBA with a stellar Pace Path. We talked to John-Carlo about his experiences at Pace and what it is like to be part of the Morgan Stanley Summer Analyst Program. Read his story here: https://bit.ly/30s8p5O
Small business owners across the nation had no choice but to quickly adapt their business plans in order to survive the pandemic, and that is not an easy task. With the help of @pacesbdc, Brooklyn-based jewelry and clothing store Line & Label was able to not only continue to operate, but also to make a difference in a time of need: shop owner Kate put her skills and experience to use by designing and distributing masks to many first responders.
Want to know what it is like to #intern in NYC as an Arts and Entertainment Management major? Sarah Smagala '21 sat down to tell us all about the 5 internships she has completed so far as an undergraduate at #PaceU
Got News?
What's your #LubinLife story? We want to hear from you about your internships, jobs, exciting hobbies/interests, awards, and/or scholarships! Your #LubinLife story may be featured on our social spaces, website, or even in our #LubinLife newsletter. Contact Ana Donner Gonzalez, assistant director, Digital and Social Content, for more information.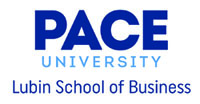 © Pace University
(800) 874-PACE